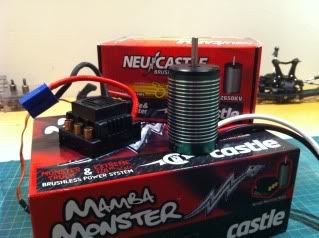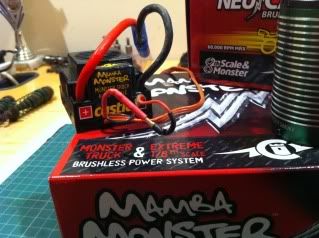 The Mamba Monster is designed to keep its cool while it pounds your truck.
Castle refused to cut corners on the design or the components,
the electronic and thermodynamic fundamentals are correct from the start.
Castle then wrings a bit more power out by using a high efficiency heat sink
PLUS an integrated cooling fan to make sure you finish the race.

Mamba Monster ESCs use huge 6.5mm gold plated bullet connectors for
reliable power transfer and simple installation. Additionally, the Castle Link
USB adapter allows you to tame the Monster by adjusting the settings using
a Windows PC.

The Neu-Castle 2650: This motor is based on Steve Neu's awesome
15 series motor, and truly is a electronic work of art. It features high
quality oversized ABEC-1 bearings, sintered Neodymium magnets,
superior electromagnetic design, and rigorous engineering control
in the Castle factory, resulting in a Monster motor that Castle is proud to
put their name on.

The 68mm long Neu-Castle 2650kV is intended for 4S (16.8 Volt)
operation and is ideal for 1/8th buggy conversions. The efficiency of a
motor determines its quality. Higher efficiency means better design and
high quality components. The higher the efficiency of the motor the more
power it can produce before it overheats. Here's a little math. Say you
are laying down 1,000 watts, (about 1¼ horsepower), and your motor
is rated as being 70% efficient. That means 300 watts is being turned into heat.
Ever grab a 300 watt light bulb? If the motor is 85% efficient it only
burns 150 watts as heat. More power goes to the wheels and the motor
runs cooler, making it capable of putting out even more power when needed.

It's always better to reduce the heat generated in an electric power
system with superior engineering, rather than to try and cool things
with fans and other gimmicks. Sure, a fan can get you a few degrees,
but it is much better to have a superior design to begin with.
NOTE:
Castle Link USB
cable is available separately.
Software is available through
www.CastleCreations.com
Mamba Monster ESC Specifications:
Cells:
6s LiPo
Continuous:
120A*
Resistance:
0.0003 ohms per phase
Brake:
Proportional with adjustable curve
Reversible:
Yes - with lockout
Low Voltage Cutoff:
Programmable
Size:
2.2x1.9x1.4"
Weight w/wires:
121g (4.26 oz)
Connector:
6.5mm bullet
Castle 2650kv Motor Specifications:
Max Input Volts:
16.8
Amp Rating*:
120
Weight:
370g (13.1 oz)
Motor Diameter:
39.98mm - 41.78mm with fins
Motor Length:
68mm
Shaft:
5mm
Bearings:
Oversize ABEC-1 front and rear
Connector:
6.5mm
Note:
Motor wires OK to shorten
*
Full throttle continuous operation with cooling airflow